[--- Reading Time:
< 1
minute ---]
U.S. citizens that need health coverage can enroll in a plan from the Health Insurance Marketplace from 11/1/2015 thru 01/31/2016.  Insurance rates have increased for 2016 coverage, but the government offers the Premium Tax Credit to help minimize the burden. To be eligible for the credit, your income must fall between 100 and 400 percent of the federal poverty line.  For 2014 returns, the federal poverty lines are depicted in the table below: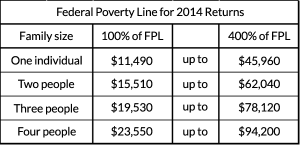 The credit amount is based on a sliding scale with low income families receiving more financial assistance. Depending on your estimated credit, you can choose to have the full amount or just a portion paid in advance to your insurer.  This will result in having a lower monthly premium. If you choose not to get advance payments of the credit, you'll be responsible for paying the full monthly premium on your own.
If your income is close to the 400 percent federal poverty line, you may want to put some extra thought into how much of the credit you choose to have paid in advance.  If the income reported on your tax return is more than 400 percent limit for your family size, you will have to repay the advance credit payments made on your behalf.
When you're ready to file your taxes, give ezTaxReturn a try.  Not only do we support premium tax credit entries, we make taxes easy.