Once you know there's a tax refund heading your way, no matter how quickly you get it, it's not quick enough.  Stalking your bank account (or the mailman) becomes a normal part of your daily routine until it arrives.  Unfortunately, we can't snap our fingers and make your refund immediately appear, but we can tell you when it's likely to show up.
When is it coming?

Most filers can expect to receive their refund within 21 days of the IRS accepting their return.  In some cases, it may take more time so you need to be patient.  Calling the IRS or popping up at one of their local offices won't get you your refund any quicker.
The IRS hasn't released an official tax refund schedule but there are plenty of guesses floating around the internet.  Remember, these dates aren't set in stone so don't get your hopes up too high.  With that being said, here are the estimated refund dates for this year.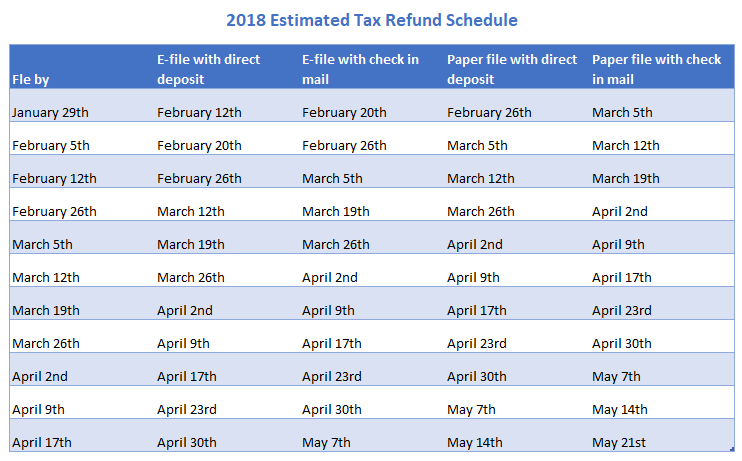 Best way to track your cash
Why play the guessing game when you can find out the real deal?  The "Where's My Refund?" tool on IRS.gov has all the answers you need.  Simply submit your SSN or ITIN, filing status and refund amount.  With this information, they'll be able to provide your current refund status.  We know you're eager for your money but don't bother checking the tool multiple times throughout the day.  The IRS website is usually only updated overnight.  E-filers can begin using the tool 24 hours after submission.  Meanwhile, paper filers must wait 4 weeks after sending off their return.
Helpful tip:  If you filed a 1040EZ, your refund amount is listed on Line 13A.  For those who filed a regular 1040, you can find what you need on Line 76a.
Fastest way to file

You only have until April 17th to file your taxes without penalty so hurry up and get moving.  The fastest and easiest way to get the job done is with ezTaxReturn.  For most customers, it only takes 30 minutes from start to finish.  Eight out of 10 filers receive their refund faster by choosing e-file and direct deposit.  So be sure to follow suit.